Calling all locked down stitchers around the world!
THE FINAL VIDEO WILL BE UPLOADED ON SATURDAY 16TH MAY - TO BE INCLUDED IN IT, GET YOUR VIDEO TO US BEFORE THEN!!
(Instrucciones en español al final de la página!)
We know that there are many of you taking this opportunity to get some stitching done so why not share what you are doing with us and other stitchers? We would like to compile videos of all of the projects being stitched during lockdown and upload them onto our YouTube channel, giving everyone the opportunity to share their work and see what other stitchers are doing.
This is how to join in:

Make a video no longer than one minute long (on your mobile/cell phone is fine) in LANDSCAPE FORMAT - see below.
In your video tell us who you are and where you are in the world (you can just give your first name and country if you want to).

'Hi my name is Sarah, I'm in Nottinghamshire in England...'
'¡Hola! Me llamo María y estoy en Madrid en España...'

Show us the project you are working on and give a brief explanation of what it is and why you are stitching it; anything you're working on that involves a needle & thread!
Click on the link below to upload your video and send it to us, we'll do the rest!
Stay calm and carry on stitching!
Once we have received enough we will edit them together and upload to our YouTube Channel here (subscribe and click the bell to get a notification).
Sample format
Please send your videos in landscape format, not portrait, or we may not be able to include your lovely stitching!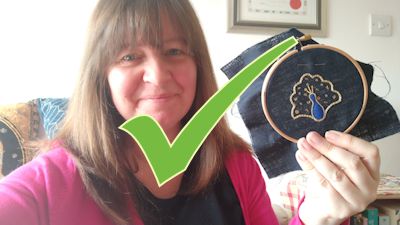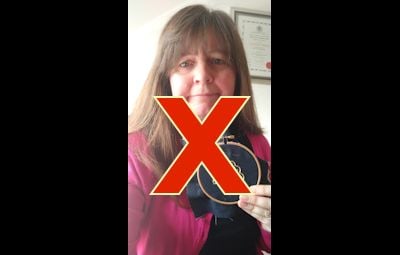 Follow these instructions for how to make your video on your smart phone:
Open the camera on your phone. This is a little camera image, something along the lines of the one in the first image below.
Once you have opened up the camera there will be another image that looks like a video, tap on this (you may notice the screen format change), see image 2 below.
If you only have one camera on your phone then, making sure it is in landscape format, point it at your work and press the big (usually red!) record button to start filming. A timer will appear to tell you that the video is recording. Press the same button to stop the recording once you have finished. See image 3 below. We can do any editing required so don't worry if the start and finish isn't quite how you would like!
If you have a front facing camera as well as one on the back you can use this one so we can see you! You need to switch to this camera; this image is usually a camera with some arrows on it, see image 4 below. Once it has switched to the front camera you should be able to see yourself on the screen! You can prop the phone up against something so it's nice and steady while you record. You can then repeat the instructions above to make your video.
Once you have finished the recording the video will save to a video file.
Click on the 'SEND YOUR VIDEO HERE' link above. You are then asked to choose your file. A list of places where you video will be will appear so choose the video section on your phone and click on the video you just made (if you aren't sure where it is, try FILES, see image 5 below).
The video will appear as a link in the box, see image 6 below.
Dropbox asks you for you name and email; this is so they can ask you if you would like to sign up to Dropbox once you have finished but you can just say no (it is free if you are interested)! Click UPLOAD and you are all done!
¡Para nuestros amigos españoles!
¡Llamando a todos los stitchers bloqueados de todo el mundo!
Sabemos que hay muchos de ustedes que aprovechan esta oportunidad para realizar algunas costuras, así que ¿por qué no compartir lo que están haciendo con nosotros y con otros cosidores? Nos gustaría compilar videos de todos los proyectos que se están cosiendo durante el cierre y subirlos a nuestro canal de YouTube, para que todos tengan la oportunidad de compartir su trabajo y ver qué están haciendo otros grapadores.
Así es como participar:
Haga un video que no dure más de un minuto (en su teléfono celular / celular está bien) en FORMATO DE PAISAJE
En su video díganos quién es usted y en qué parte del mundo (puede dar su nombre y país si lo desea).

'Hola, mi nombre es Sarah, estoy en Nottinghamshire en Inglaterra ...'
'¡Hola! Me llamo María y estoy en Madrid en España ... '

Muéstranos el proyecto en el que estás trabajando y da una breve explicación de lo que es y por qué lo estás cosiendo; ¡todo lo que estás trabajando que involucra una aguja e hilo!
Haga clic en el enlace a continuación para cargar su video y enviárnoslo, ¡nosotros haremos el resto!
¡Mantén la calma y sigue cosiendo!
Una vez que hayamos recibido suficiente, los editaremos juntos y los subiremos a nuestro canal de YouTube aquí (suscríbase y haga clic en el timbre para recibir una notificación).