AboutOld
'Many people were first taught to embroider by their mother or grandmother and have been stitching most of their lives. I did

a few pieces at

school but it wasn't until much later on in life (after career

s

s

uch as mechanical engineer and croupier) that I really became interested in it. I enrolled on a textile home study course but frustrated at not being able to experiment because I didn't know enough

basics, I decided to lear

n hand embroidery techniques and w

as aw

arded a place on The Royal School of Needlework Apprenticeship. I graduated in 2006 and taught for the RSN on certificated, diploma and day classes.

I am the author of "The Royal School of Needlework - Essential Stitch Guide to Silk Shading' (it does what it says on the cover!) and contibuting author of 'Embroidery: A Maker's Guide' from the V&A (released 5th October 2017). I was also lucky enough to be part of the team of embroiderers who worked the embroidery on the wedding dress of The Duchess of Cambridge in 2011 and more recently I made the replica 105th Napoleonic standard for the Waterloo 200 commemorations, 2015 (read more about this in my blog!).
I live in Nottinghamshire near to the beautiful Sherwood Forest and I work alongside my husband Jonathan from our garden studio.'
Prizes
Finalist in the Bridging Arts British Sari Story competition, 2010
Gold and Silver Wire Drawers Goldwork Prize, 2005
Winner of the RSN Stitch Sampler Design Competition, 2005
Hilda
Watson Prize for Silk Shading, 2004
Qualifications
Diploma in Fine Art, Cyprus College of Art, 2009
Certificate in Education, Greenwich University and North West Kent College, 2008
Diploma in Traditional Hand Embroidery, Royal School of Needlework, 2006
BTEC in Botanical Painting and Drawing, Richmond College, 2006
NOCN in Printmaking, 2005
NOCN in Art and Design, 2004
Books:
---
Sarah is thrilled to have contributed to the new book from the V&A, released 5th October 2017!
'Embroidery: A Maker's Guide' (Victoria and Albert Museum)
Publisher: Thames Hudson
Embroidery: A Maker's Guide contains 15 beautiful step-by-step projects for crafters at all levels. Each one takes its cue from a different historical tradition – from English goldwork to Indian beetle-wing embellishment, from Japanese kogin to Irish whitework. Projects include a bargello purse; blackwork moth and dragonfly motifs on napkins; a William Morris artichoke motif on a small cushion; Chinese-inspired motifs for adorning a denim jacket; Mountmellick whitework on a decorative necklace-collar; Indian shisha mirrorwork on a clutch bag; and machine-embroidered lilies on lingerie. Designed by teachers and practitioners at the leading edge of today's craft revival, the projects are both functional and fashionable, and include tips on how to take next steps towards developing your own designs.
This modern maker's guide will inspire all readers with the confidence to express their creativity through the age-old craft of decorative stitching.
Table of Contents
1. Counted Thread Embroidery: Kogin; Berlin woolwork; Bargello; Blackwork; Phulkari
2. Freestyle Embroidery: Crewelwork; Chinese silk; Goldwork; Art needlework
3. Whitework: Broderie Anglaise; Mountmellick • 4. Embellishments: Shisha; Beetle wing;
Ainu appliqué • 5. Contemporary Embroidery: Drawing with thread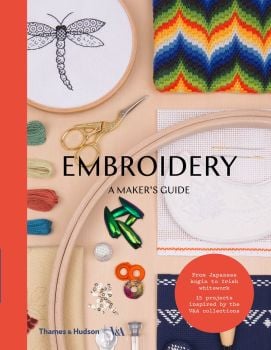 Join me at the Victoria and Albert museum for a class in one of these projects! For more info visit the classes page here
---
"RSN Essential Stitch Guide to Silk Shading"
Publisher: Search Press
Now available in English, Russian and French!
'Other silk shading books on the market are good for specific projects that the authors have designed but if you would like to create your own, or change an existing design to reflect your own taste, I highly recommend Sarah Homfray's book' - Sarah Halsey, President of the Bay Area Samplers Guild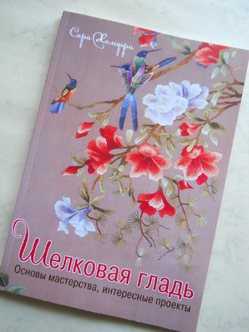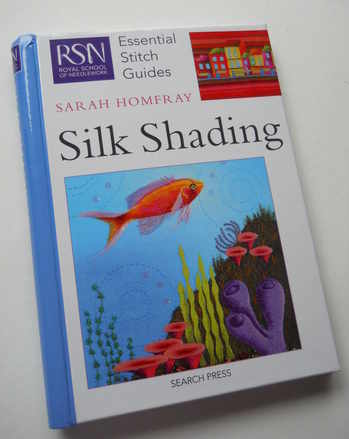 Learn the beautiful art of silk shading with Sarah's book!
What's it about? This book takes you through the whole technique of silk shading as it is taught by the Royal School of Needlework, and is a great accompaniment to the Certificate and Diploma course.
What's inside? An introduction and history to the technique; materials and equipment; a section about design and colour; inspiration; composition; transferring the design; frames; stitches to enhance your silk shading; getting started (learn the technique with a simple silk shading exercise); more complex shapes; how to tackle curves; how to create different textures; taking your silk shading further (design, threads, fabrics, backgrounds); how to finish your silk shading and a troubleshooting section.
Read the full review of this book by the President of the Bay Area Samplers Guild here