Calling all stitchers around the world!
We are not currently taking videos but look out for information on how to join in in 2024!

Send us a video of an embroidery project you are working on and we will compile them all into one video and upload onto YouTube. Anything that involves a needle is great, and it can be something you are working on now or something you have finished. We welcome embroidery beginners especially, it is really inspiring to see people starting their embroidery journeys so do show everyone what you are making! And if you have participated before then you are very welcome to do so again! Maybe you would like to show us one of the earlier pieces you were working on finished....
Instructions on how to join in and the link to send your videos to us are below!
This is how to join in:

Make a video about one minute long (on your mobile/cell phone is fine) in LANDSCAPE FORMAT - see below. Check out the videos above to see how others have done theirs.
In your video tell us who you are and where you are in the world (you can just give your first name and country if you want to).

'Hi my name is Sarah, I'm in Nottinghamshire in England...'
'¡Hola! Me llamo María y estoy en Madrid en España...'

Show us the project you are working on and give a brief explanation of what it is and why you are stitching it; anything you're working on that involves a needle & thread!
Click on the link directly below to upload your video and send it to us via Dropbox and we'll do the rest!
Carry on stitching!
See our previous Stitching Around the World videos on our YouTube Channel here (subscribe and click the bell to get a notification).
Sample format
Please send your videos in LANDSCAPE FORMAT not portrait, or we may not be able to see your lovely stitching!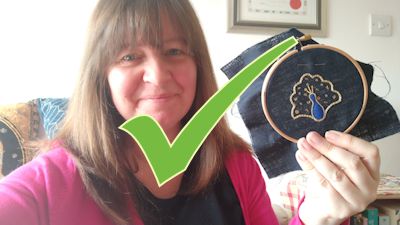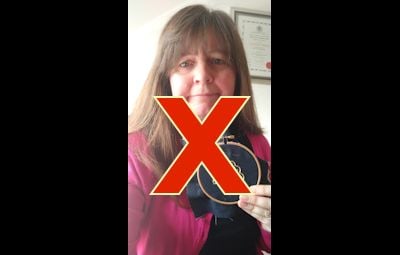 Follow these instructions for how to make your video on your smart phone:
Open the camera on your phone. This is a little camera image, something along the lines of the one in the first image below.
Once you have opened up the camera there will be another image that looks like a video, tap on this (you may notice the screen format change), see image 2 below.
If you only have one camera on your phone (on the back!) then, making sure it is in landscape format, point it at your work and press the big (usually red!) record button to start filming. A timer will appear to tell you that the video is recording. Press the same button to stop the recording once you have finished. See image 3 below. We can do any editing required so don't worry if the start and finish isn't quite how you would like!
If you have a front facing camera as well as one on the back you can use this one so we can see you! You need to switch to this camera; this image is usually a camera with some arrows on it, see image 4 below. Once it has switched to the front camera you should be able to see yourself on the screen! You can prop the phone up against something so it's nice and steady while you record. You can then repeat the instructions above to make your video.
Once you have finished the recording the video will save to a video file.
Click on the 'SEND YOUR VIDEO HERE' link here or above to send via Dropbox. You are then asked to choose your file. A list of places where your video will be will appear so choose the video section on your phone and click on the video you just made (if you aren't sure where it is, try FILES, see image 5 below).
The video will appear as a link in the box, see image 6 below.
Dropbox asks you for your name and email; this is so they can ask you if you would like to sign up to Dropbox once you have finished but you can just say no (it is free if you are interested)! Click UPLOAD and you are all done!