Events
Why not visit one of the following embroidery/sewing/art events?
Block printing and goldwork holiday to India
with Colouricious Holidays
20th January 2020 - 31st January 2020

London ~ Jaipur ~ London
I'm very excited to be leading my second wonderful tour for Colouricious, block printing specialists!
Join me in the fabulous city of Jaipur for a magical goldwork and gardens experience! Gather inspiration from three of its beautiful gardens as well as visiting the local artisans of Jaipur, all to help encourage your creativity when making your own Maharani gardens inspired piece. Sarah will teach you the the historical art of goldwork embroidery combined with your own block printing designs for stunning results!
Jaipur is one of the most beautiful states of India due to the ancient history and art heritage; there are people, patterns and embroidery everywhere! You will be will be staying in the city of Jaipur which is the capital of the block printing India. Using Jaipur as our base, we will be taking days trips out to other areas for our block printing adventures – in particular, the dabu block printing workshop where you will block print your own fabric with mud, being taught by ladies in a village about an hour from Jaipur. Also in a town called Bagru, we will spend a morning block printing in a more "basic" factory i.e. with a more rural flavour.
We often squeeze in more activities than expected which pop up spontaneously; have your own clothes made by a local tailor, shop in the local markets but also in the best shops in town, such as Fab India and Anouki. Let us know if there is anything in particular you are looking for, in the fabric world, so we can take you there. You will love Babu Bazaar for embellishments as well as the factories where you can buy fabric direct from the printers.
This holiday includes return flights, London Heathrow overnight to Jaipur, hotel accommodation including breakfast and evening meal. Private coach throughout the tour.
For all the info and booking, click here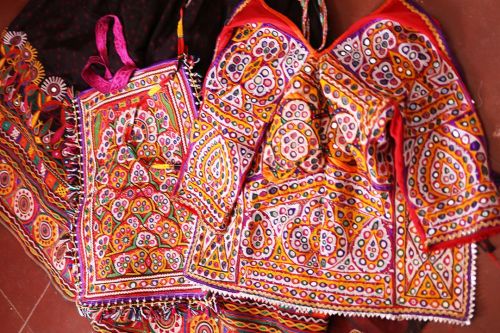 Return to the 'Community' page
Sorry you missed:
Colouricious Holidays
Textile Treasures of Gujarat
October 2018
Lincoln Heritage Skills Centre, Open Studios
6th-7th May 2017
The Victoria and Albert Museum

'Opus Anglicanum - Masterpieces of Medieval Embroidery
Until February 2017
Lincoln Heritage Skills Centre - Traditional craft open workshops
Heritage Skills Centre, Lincoln Castle.
21st - 22nd May 2016
The Victoria and Albert museum
'The Fabric of India'
January 2016