Events
Why not visit one of the following embroidery/sewing/art events?
Embroidered textile treasures of Gujarat with Colouricious
11 Nights/12 Days - 10th October - 24th October 2018
London ~ Ahmedabad ~ Gondal ~ Bhuj ~ Morvi ~ Dasada ~ Patan ~ Ahmedabad ~ London
I'm very excited to be leading this wonderful tour for Colouricious, block printing specialists! This is a special trip for textile and handicraft lovers, getting off the beaten tourist trail for this exploration of the real and old India, the one rich with traditions and artisans. Gujarat is an area which many years ago attracted migrants from many other places around due to its location. Bringing with them their expertise in block printing, weaving, dyeing and embroidery, this area is the place to visit if you have an interest in witnessing, first hand, how these techniques are still practiced.
During your Colouricious trip you will find that we have packed full a schedule for you of visits to villages and makers, museums and heritage walks. We have found examples of many different types of block printing, shown to you by the expert artisans who have been honing their art for many generations.
Gujarat is considered to be the jewel of western India, missed by many visitors to the continent, the villages and countryside holds the state's treasures. We have arranged that you will be expertly guided around this vibrant area which is just bursting with producers of the country's finest textiles.
On our tour you will be experiencing a variety of places, from Gondal a small leafy town to Patan, the ex capital, a dusty town with elaborate wooden houses and famed for its silk textiles.
With much of India now becoming westernised you will find here an opportunity to see it how it was before technology. However, this area is very much on the up, with the renewed interest of buying heirloom pieces, appreciation of the hand made and the sustainability of products made with naturally and locally grown plants, Gujarat is the place to go for those who have an interest in history and tradition.
For all the info and booking, click here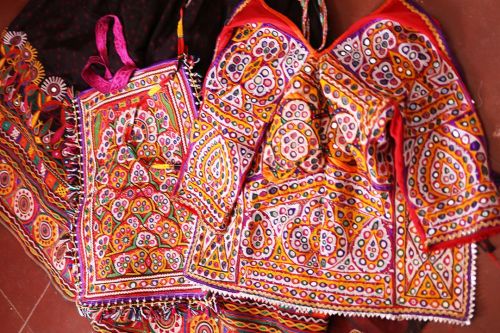 Return to the 'Community' page
Sorry you missed:
Lincoln Heritage Skills Centre, Open Studios
6th-7th May 2017
The Victoria and Albert Museum

'Opus Anglicanum - Masterpieces of Medieval Embroidery
Until February 2017
Lincoln Heritage Skills Centre - Traditional craft open workshops
Heritage Skills Centre, Lincoln Castle.
21st - 22nd May 2016
The Victoria and Albert museum
'The Fabric of India'
January 2016
The Big Textile Show
Leicester Gramar School
September 2014
Royal School of Needlework Summer Exhibition
Rugby Art Gallery & Museum,
Little Elborow Street, Rugby, CV21 3BZ
The Art of Embroidery: Nicola Jarvis and May Morris. The William Morris Gallery, London, UK
Saturday 6th July - Sun 22nd September 2013
The William Morris Gallery, Forest Road, Walthamstow, E17 4PP
Rugby Royal School of Needlework: Summer Exhibition. Rugby, UK
Wednesday 17th July - Thursday 25th July 2013
'Threads of Silk and Gold, Ornamental Textiles from Meiji, Japan.' Ashmolean, Oxford, UK
Until 27th January 2013
Rudolf Nureyev: A Life in Dance - De Young Museum. San Francisco, USA
Until February 17th 2013.
Mughal India: Art, Culture and Empire - British Library, London, UK
9th November 2012 - 2nd April 2013
Rugby Open 2012, UK
An annual exhibition showcasing the best of the region's artwork
Rugby Art Gallery and Museum, Little Elborow Street, Rugby, CV21 3BZ
23rd November - 29th December 2012
Peg Dollies 2012
9th August-8th September
An exhibition of Olympic themed peg dolls.
Art in Action
19th-22nd July 2012, Waterperry House, Oxfordshire
'Approximately 25,000 visitors come over four days to learn, buy and enjoy, exhibitions, classes and performances of 400 demonstrating artists, teachers, musicians and performers.'
Exhibition of Embroidery, Rugby Library.
Come and admire the beauiful work of students of the Rugby branch of the Royal School of Needlework.
Royal School of Needlework Degree Show 2012
26th and 27th May, Hampton Court Palace
The Big Draw, October 2011
The Big Draw is now an annual month-long festival of over one thousand events across the UK. Every October, museums, galleries, heritage sites, libraries, schools and parks join in – inviting people of all ages to discover how drawing can connect them with their surroundings and the wider community. To read more about this exciting event visit the 'Campaign for Drawing' website. I will be involved in an event at Rugby library and Art Gallery on Saturday 15th October, where me and my class will be drawn by American artist Morgan O' Hara, who draws 'people in action'. Come and see what she makes of us!
For more infomration on the Rugby event click here.
Festival of quilts 2011, Birmingham NEC
11th to 14th August
Opening Hours: 10.00am to 5.30pm (closes 5pm Sun)
Join myself and Nikki Jarvis on stand i24 where we will be demonstrating traditional embroidery techniques. Have a look at some of our work and see what classes are on offer for 2011/2012.
Embroidery Exhibition
Royal School of Needlework (East Front entrance) Hampton Court Palace, Surrey
Certificate and Diploma Students' work
Monday 4th-10th July 2011, admission times 10.00 - 6.30 daily (except Monday 4th, 11.30 until 3.30)