...to 2012! I hope you all had a relaxing time over the seasons festivities and are ready to face the new year head on.
If you are here, you will have noticed my new look website format already! I have streamlined the site to make it easier to find your way around but don't worry everything is still there. If you should want to read a bit more about me you can access my biography from the home page and you will now find all the galleries in one place under the 'Galleries' section. Don't forget, there is a gallery for you too! So if you would like to show off a piece you have made why not send it to me? Follow the e-mail link on the 'Your gallery' page.
The other main change is the services section. All classes, services I offer and events are now under one heading 'What's on'. Check here to see where I will be teaching, exhibitions I am involved in and to enquire about commissions and private tuition.There will be a new newsletter out this week (with a new format also!) so check the 'Newsletter' page to read about exhibitions, the A-Z of art (this edition we are on M for...) articles about embroidery and great links to check out.
This year is going to be a busy year with classes in Rugby really taking off now (see the dedicated website www.heartofembroidery.com), a couple of trips across the pond, not one but two exhibitions, articles for 'Stitch' magazine, more videos on the 'how to...' page and a planned house move in there somewhere also!
So I hope you will join me over the year for lots more creative times,
See you soon!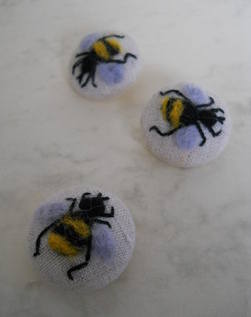 Now availble on my Etsy shop: Bumble Bee buttons! Click here...