...to all those of you who have joined me from 'Stitch' Magazine this month, I hope you enjoy looking around my website! There is lots to look at including three galleries of work to inspire you. Why not send me a photo of a piece of your work and show it off in 'Your gallery'? E-mail it to me here: E-mail Sarah with a title, your full name and a brief description. Don't be shy! There are lots of different subjects to see including sculpture and painting as well as all types of embroidery.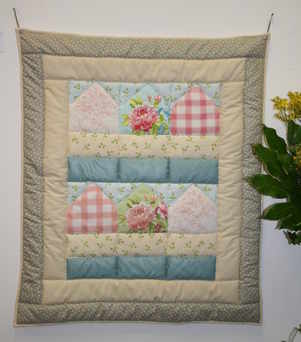 Beach Hut Quilt, by Louise Froggett. 2011
There are 'How to...' videos of stitch tutorials, how I made some of my pieces and a tutorial in the Prick and Pounce Design Transfer Method. This is the method that Michael Angelo used to put the design on the ceiling of the Sistine Chapel and it is still one of the most accurate ways of transfering a design. Unlike in Mr Angelo's day however, you can now buy everything you need in one handy, reusable kit and you can get yours today on the web HERE! The kit contains 3 colours of pounce powder in reusable pots, a pricker, a pounce pad, free part pricked design and comprehensive instructions.

There are some free projects, puzzles and designs on the 'free stuff' page, and a free bi-monthy newsletter for you to browse over a morning cuppa. See the January/February issue here.
If you are looking for a class, check out the 'what's on' page to see where I am teaching. You can also see events that I will be at and other services that I provide. There are several exciting events coming this year, so check back regularly to see what's happening!.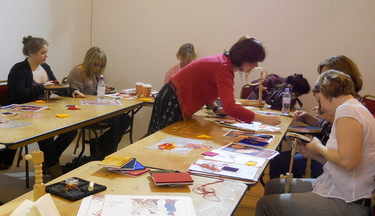 Lastly, don't forget to browse my shop. I have lots of those items that are hard to find including gold threads and metals, velvet boards, fine and curved needles, shisha mirrors, handmade gifts and lots more. I add new items all the time and going in to the shop this week are Kreinik Japanese thread and beading needles. Look out for Japanese thread in some new exciting colours: Pink, lime green and vibrant orange!

I ship world wide, if you can't find your destination in the drop down list, please get in touch with me here and I will add you! Postage and packing prices are based on weight and will show in your shopping basket before you commit to buy.
I'll leave you to look around, enjoy!
Sarah