August 2014 update
Posted on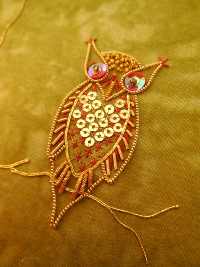 Goldwork owl kit, release soon!
Summer has flown by and all we seem to have done is building work! Our new studio workspace is almost completed (you can see pics on our facebook page!); just the ceiling to go in then we can put the carpet down! From then on it will be no outdoor shoes! We will be setting up a filming space and will be back on to making more great youtube videos and the distance learning course will get back on track.
There will be more items in the shop (there are some real treats waiting in the wings!), and for the first time you will be able to visit our normally mail order only shop when we take our place at The Big Textile Show at the end of September in Leicestershire. We will be selling lots of embroidery kits and materials (with the launch of our new goldwork owl kit!) with a goldwork workshop on the Saturday. For more information on this visit the events page here.
Don't forget to check out the classes page and come and learn the beautiful techniques of traditional hand embroidery with Sarah in several venues across the Midlands including a new venue, Lincoln Castle. For more details and to book, visit the classes page here.