'Good day at work dear?'
Posted on
I have done my fair share off going to work in an office and I have to say I'm happy to not be doing that anymore! I have worked in some awful places then again I have also worked in some of the best. You do get used to an environment though and occasionally something happens to remind you exactly what you've got.
Yesterday was one of those days. I teach for the Royal School of Needlework every Thursday at Hampton Court Palace. Yesterday when I arrived, all the car parks, lanes and tea rooms were filled with film crew. Not unusual, a lot of films shoot scenes there but I have never seen this many. It then turned out that it was for Pirates of the Carribean IV! And yes Johnny Depp was there much to the excitment of my class, and embroidery took second place for the day! Here are some naval officers taking a rest in Clock Court while filming went on behind: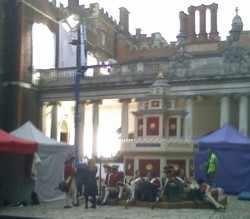 There were also lots of cavalry outside the main entrance and the horses looked rather fine, but the picture didn't come out very well.
Lunchtime was no less interesting with a botanical exhibition on in the Clore Centre. The work was exceptional and makes me want to get my watercolour paints out and get painting.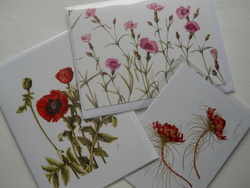 I grumble about the long drive to work but it's not a bad place to spend the day really..