Festive felicitations!
Posted on
Well it's that time of year again and crikey does it come around fast; we have been in our 'new' house for almost a year! The studio is up and running well and is a lovely place to work. What this all means for you is that we are more efficient, more focused and are back on track to bring you the distance learning courses we promised last year. News on this to come but look out also for more free 'how to' videos, new embroidery kits (the stumpwork bee below is the next one and will be with you soon!) and new items in our specialist embroidery shop.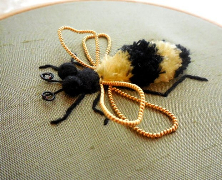 If you haven't seen them yet, there are new goldwork videos up on the 'how to' page (you can also view these on my YouTube channel) completing the goldwork daisy design. There is also a materials pack available for this so you can now stitch along to the videos! Let me know what you think of the videos through my guestbook page.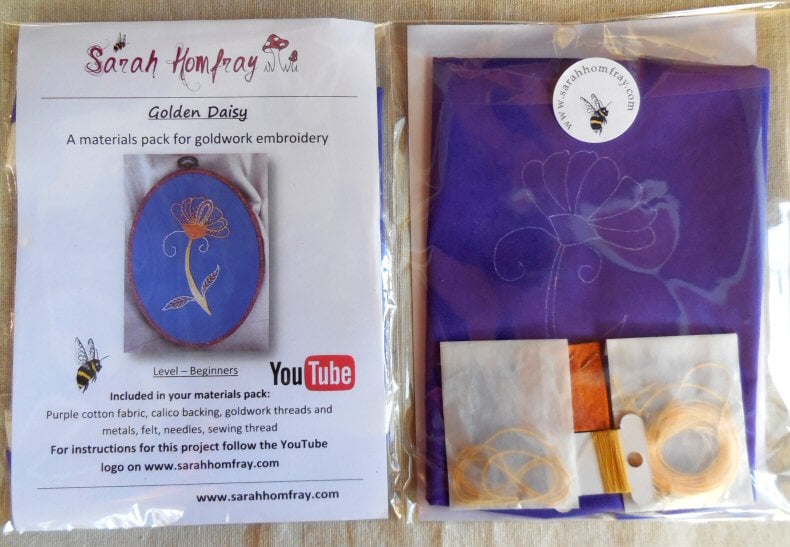 There are more classes to look forward to, and you can see these on my classes page here. The first class in Lincoln Castle went very well; there are still some places on the next one so why not come and join me in the beautiful city of Lincoln for a workshop in Elizabethan embroidery? Booking for the new Rufford Abbey classes will be up on the website in the new year where I will be catering for those of you taking your first steps in the embroidery with a beginners workshop then a morning introduction to goldwork. These will be very relaxed and informal so I hope to see some of you there.
The shop will remain open throughout the festive period; as long as the postal services are open so are we! So pop along to the shop and see what we have; this is a great time to get those Christmas presents for your stitching friends! Visit the Christmas shop here.
All that remains is for us to wish you the happiest of festive seasons and we look forward to seeing you next year for more stitching fun!
Sarah and Jonathan