Now on Twitter!
Posted on
I am now on Twitter! I add to this website frequently and thought I could tweet the latest additons as I make them, so why not check out my page and be the first to the free stuff, first to sign up to new classes, and first to new shop stock!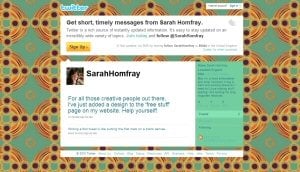 Anyone who knows me knows I'm not much of a fan of Facebook (understatement!), but Twitter seems a bit more intuitive and a place to share useful happenings. I update this site regularly so why not check on Twitter to see what I've added?
Find me by searching for SarahHomfray (no spaces) or click on Sarah Homfray now Tweets!. The best bit though (unlike Facebook), you don't have to sign up to read my tweets!