Well it's September already and that means more new stuff! The September/October newsletter is out now, you can read it here on this website (if you missed an issue you can view all issues published by following the link on the publications page).
There are many new items in the shop including needles, tape measures, webbing for framing up, kits, new and improved velvetboards, shisha mirrors, books and more! Check out nearly 100 items in my shop here.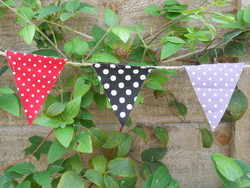 'Mini bunting' kits now available. Easy to make, sew or glue!
Now taking bookings for day classes in embroidery, visit the classes page to see what's happening. There is more information and a booking form on the new website: www.heartofembroidery.co.uk. Hope to see you in the heart of England!