New kit and video!
Posted on
Look out for the new 'framing up' kit now available in the shop and corresponding video on the technique on the 'How to...' video page.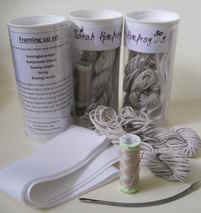 This kit contains all the materials you need to frame your chosen embroidery fabric on an embroidery frame including herringbone tape, strong sewing thread and needle, string and a specialist bracing needle. It is available now from the shop here.
There is also a new video on this technique available on the 'how to...' video page! Click here to see how exactly to use the materials to frame up your fabric securely to help you make those perfect embroideries!