What's on this September!
Posted on
Well that was it I guess, summer gone once more! A lot happening at sarahhomfray.com in the coming months so here is a concise round-up of what's coming your way:
Day classes: There are a new series of day classes starting up in the market town of Rugby where I will be teaching traditional embroidery techniques for beginners on behalf of the Royal School of Needlework. There is also one more class at Rufford Craft Centre in Nottinghamshire where we will make a beautiful 3-D poppy for you to wear (it's nearly done, image coming soon!); and I have classes starting up at a new venue in Lincoln. The first is in November learning some of the fundamental emrboidery stitches in the form of a historical sampler, and all these classes will be held in the lovely new Heritage Skills Centre in the grounds of Lincoln Castle! For details of all my classes, just visit the learning zone here.
The Big Textile Show: We will be having a stand at this two day show; in it's second year and expanding rapidly! Come along and meet us and treat yourself to some specialist embroidery items including goldwork metals and threads, kits and equipment. Why not join me for a 2 hour workshop in goldwork on the Saturday? We will be stitching these sweet little Trio of Toadstools below. More info and workshop booking here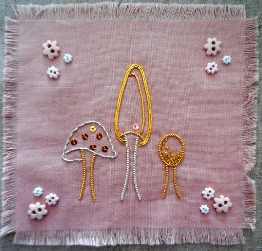 New studio: It's nearly ready to move in to! This will put us in a position to expand the shop items and start on the youtube videos again so watch out for new goodies, more helpful how to tutorials and the re-start of the distance learning classes. More news on these as they happen; don't forget to like my facebook page for all the latest news!